Autograph Tickets
: All autograph tickets are sold at the main cashier area in the Official Pix Autograph Hall. Individual autograph prices start at $20.00 each.

Before getting an autograph you must first purchase autograph tickets. While most of the guests will require a minimum of TWO $10 autograph coupons, a few of our guests will require a special ticket to get their autograph and are available separately. The cashiers will be available during the entire show in case you find you need more autograph tickets than you planned. While there is currently no limit on the number of autograph tickets you can purchase, we reserve the right to limit sales to individuals at the event. Individual Autograph Ticket Prices can be found on the ???GUEST??? page here.


As with earlier Official Pix Celebration events, our limited edition 8x10 inch photographs are complementary with autograph purchase and are available at the actor's table (your choice of one photograph per autograph ticket exchanged) OR you may also provide your own item for the actor to sign (poster, toy, book, etc).


UPDATED:
Special Guest Lines & Autograph Queue Numbering
We've identified a better way to serve those who PRE-ORDERED Celebration Anaheim autograph tickets from us!

At the top of your invoice printout containing your barcode, there is a unique ORDER ID. This ORDER ID tells us the exact sequence of YOUR order amongst all the other customers who pre-ordered. Bring your email or printout containing this ORDER ID to our special ticket guest's queue to determine which ORDER ID we are serving at that time.
At the front of these special guest queues (Hamill, Fisher, etc.), we will place a marker board indicating the current ticket numbers being served. We will start each day with 69500-69700, and raise the numbers incrementally (69500-69900, 69500-70000, etc.) to keep the queue full throughout the day.

As some of the Guests will have long queue lines, and have appearance commitments, lunches and breaks during the show, we will utilize signs to indicate when a line is "capped". This means we believe that last person in line will be the last to the Guest before his or her departing the area.

For convention fans with Jedi Master badges, the opportunity to skip the main queue is available. Just have your ???Autograph Line Pass card??? with an available jump ready to be punched. A line volunteer will get you into the fast path line and make sure you are inserted into the actors signing area as soon as possible.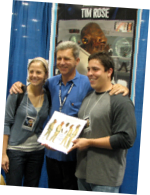 Photos Of / With Actors: Taking photos with guests is always up to each individual actor as well as subject to time and line management. Many guests are happy to take a quick photo with you at their autograph table. For select guests, we will be offering a ticketed photo opportunity. See ???Epic Photo Ops??? in the autograph area for details, times, and to purchase photo opportunities at the event.


Please Note: Not all actors may be appearing all four days. Check our guests page here for details. All appearances are subject to professional commitments. No refunds on un-used autograph tickets. Photos shown may be different than actual final product.