Authentic Autographed Items
| | |
| --- | --- |
| | May 25, 2017 |
Happy 40th Anniversary Star Wars
Can you believe Star Wars turns 40 years old today? Happy Anniversary to the greatest Saga the world has ever known and thank you to George Lucas for such an amazing gift for us all!
| | |
| --- | --- |
| | May 14, 2017 |

Incredible Harrison Ford Signing Announcement
We couldn't be more excited to announce that Harrison Ford will be signing for us again very soon and, for the first time ever, he's agreed to PERSONALIZE! Also a first will be the largest amount of items ever offered for a single signing which includes photographs, posters, action figures, POP! Funkos, trading cards, life size props and comic books! Be sure to pencil in Monday, May 15th at 12:00pm (Eastern) when we launch the pre-sale right here!
| | |
| --- | --- |
| | May 4, 2017 |
| | |
| --- | --- |
| | April 19, 2017 |

Ray Liotta First Ever Private Signing
We are excited to offer customers the first opportunity ever to pre-order signed photos from actor Ray Liotta! Know best for titles like Goodfellas, Field Of Dreams, Identity, Hannibal and many more. You can now order signed 8x10 & 11x14 photos or mail in your own items to be signed. Orders will be taken through Thursday, May 25th and all Send-In items must arrive by Saturday, May 27th. Click here to place your order!
| | |
| --- | --- |
| | April 19, 2017 |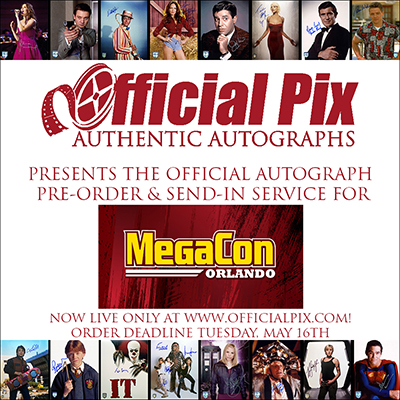 Official MegaCon Orlando Autograph Pre-Order & Send-In Service Now Live
Fans that cannot attend MegaCon Orlando now have the opportunity to Pre-Order 8x10 convention photos or mail in their own items to be signed by many of the attending guests! The guest list includes names like Tim Curry, Stan Lee, Charlie Cox, Richard Dean Anderson, Elyes Gabel, Ray Park, Spencer Wilding, Felicia Day, Caleb McLaughlin, Gaten Matarazzo, Gina Torres and many more! Click here to place your order now!
More Official Pix News
Add your email address here: