Authentic Autographed Items
| | |
| --- | --- |
| | November 21, 2017 |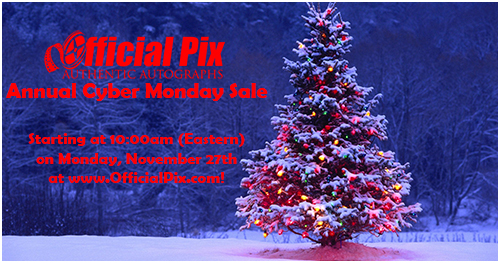 Annual Cyber Monday Sale Coming Soon
Just in time for Christmas, it's our Annual Cyber Monday Sale starting at 10:00am (Eastern) on Monday, November 27th! Look for great deals on nearly every in stock item in our store. In the hours leading up to the sale, our store section will be turned off, so don't be late and keep refreshing the page to grab some new treasures for your own collection or for a friend!
| | |
| --- | --- |
| | October 30, 2017 |

Dave Prowse - The Final Signing Is Now SOLD OUT
Due to the incredible response for our final Dave Prowse signing, with the amount of orders received, this signing is officially SOLD OUT. We had intended to accept orders through November 6th as advertised, but Dave can only sign so many pieces per day and our time with him is limited. Thank you so much to all that ordered and we look forward to bringing you some incredible pieces to add to your collection when we have him sign next month.
| | |
| --- | --- |
| | October 19, 2017 |

Dave Prowse - The Final Signing
Official Pix is proud to present our last and final signing with the legend himself, Dave Prowse! Darth Vader has been such an important character over the last four decades and we are excited to be offering Dave to our customers for the first time in five years, but also sad that this will be the last time we offer him. Click here for order options.
| | |
| --- | --- |
| | October 18, 2017 |
| | |
| --- | --- |
| | October 17, 2017 |
| | |
| --- | --- |
| | October 6, 2017 |

Exclusive 24-Hour Mark Hamill Star Wars: The Last Jedi Autograph Offer
24-hour offer! Official Pix is pleased to be the first to offer customers this brand new officially licensed Luke Skywalker photo from Star Wars: The Last Jedi in both 8x10 & 11x14 sizes signed by Mark Hamill! We are also happy to offer customers an exclusive inscription with each signature. Along with his autograph, Mark will include "The Last Jedi"! Sorry, no personalizations for this offer. Both sizes are very limited, so don't wait to place your order and miss out. Orders taken through 8:00pm (Eastern) on Saturday, October 7th. Click here to grab yours now!
| | |
| --- | --- |
| | October 3, 2017 |

Spooky Empire Autograph Pre-Order & Send-In Service
We couldn't be more excited to announce that we'll be attending Spooky Empire this month and offering our famous Pre-Order & Send-In Service for the event! Order pages are now live and you can choose from names like Anthony Michael Hall (perfect to add to your Molly Ringwald pieces!), Richard Dreyfuss, John Cusack, Joan Cusack, Jennifer Carpenter, Chester Rushing, Fairuza Balk, Shannon Elizabeth, Daphne Zuniga, Loni Anderson and many more! Click here to view the order pages now.

More Official Pix News
Add your email address here: